Picking up my Chilean colleague's suggestion, I went to Algarrobo for a day-trip with some friends. We wanted to escape busy, loud Santiago for a while and so we jumped on the bus and let it take us out of the city.
ALGARROBO — When we got off at the station in Algarrobo, warm, vernal air and a sleepy little town awaited us.
Walking downhill towards the blue mass that was shimmering behind the houses, we could not wait to get to the sea and the little boats that were peacefully floating on the waves. A bunch of pelicans was our welcome committee. Those birds, the sound of the waves, the somewhat fishy smell of the sea, the sun, the peacefulness, palm trees — what a perfect first impression of the town!
We started walking along the promenade towards a huge rock, which I reminded my colleague was talking of as being close to a cute little beach.
Not being intimidated by the promenade suddenly ending, we climbed a sandy hill and kept walking towards the rock. And when least expected, a bay with turquoise water was shimmering right in front of our eyes.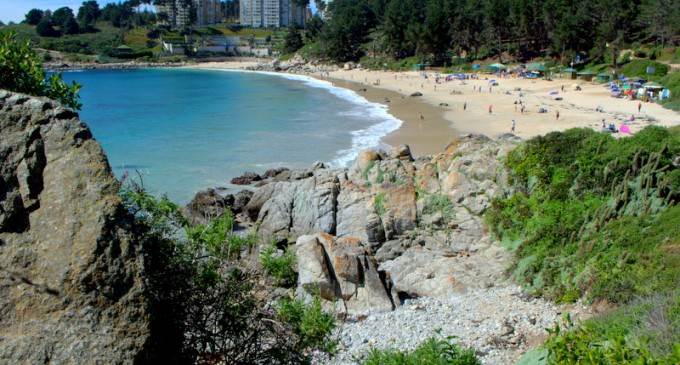 We had made it to Playa El Canelo.
The beach with its white sand is surrounded by pine woods and to me it seemed like a small piece of paradise.
Enjoying the sunrays and listening to the calming sound of the waves, there was no need for words to be spoken between us. We had found what we wanted to: a place where you can just leave the hectic everyday life behind, enjoy some relaxing hours, and be at peace with yourself and in a total state of happiness about your current situation.
After a walk alongside the sea, with the beach turning into a rocky, windy area when leaving the safety of the bay and thus showing the wild side of the pacific, and through the pinewoods, we made our way back towards the bus station.
Relaxed, happy, and tired we headed back to Santiago. We returned from paradise back to real life…
Related Posts