Looking for a place to go this long weekend? Whether it is with your partner, your friend or simply by yourself to escape the busy city life, here are some of my personal recommendations for great costal towns to visit; to relax, to explore or to let of some steam.
VALPARAÍSO
Valparaíso is a beautiful place. Once visited, it is never forgotten and with its unique character and spectacular views, I can assure you that if it's your first time visiting, it sure won't be the last!
When I was in Valparaíso I was never bored. There is always something to do and always something new to see; from the quirky buildings and houses, to the brightly painted stairways. Street art is one of the main attractions in Valpo, as well as the amazing "cerros" (hills come mountain) which you can walk up for miles, and the huge, busy port.
I would recommend you to visit Pablo Neruda's house, La Sebastiana. It is an interesting museum with gorgeous views looking over the town and it's coastline. And after the walk up to La Sebastiana and once back in the town center, you will probably need something cooling to refresh yourself. So if you're a fan of ice-cream, then take a to trip to the famous ice-cream parlour Emporio La Rosa.
Things to watch out for: Strong sun, stray dogs (although they are so friendly and loving), the amount of garbage there and the crazy buses which stop pretty much everywhere.
How to get there: Terminal Alameda, Santiago al Terminal de Bus de Valparaíso – CL$8,700 – Max. 2 hours drive.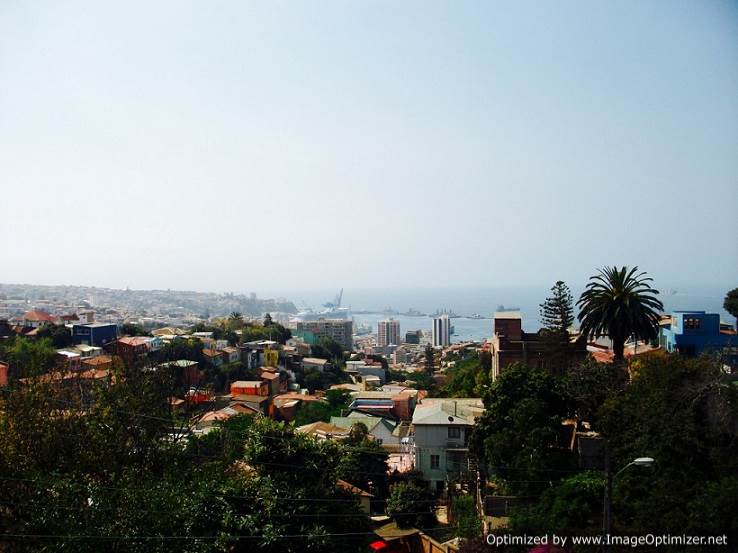 CONCÓN
My second recommendation is the gorgeous seaside town Concón. You can get here by bus from the Main Street of Valparaíso which is called Errazuritz. The bus is a little red bus, with destinations listed in then front window of the bus. It takes around 45 minutes to get to Concón and costs around 1,000 CLP return.
Concón is a place where people visit to try out sand-boarding! And I fully recommend trying out this wacky sport as it's different, fun and a great way to enjoy the sunshine and the marvellous views from the top of the huge sand dunes.
I have to advise you to wear sensible footwear as the sand gets really hot, to take plenty of water, and something to eat to boost your energy, as sand-boarding can get tough after a while, but nevertheless, it is fun and well worth the CL$1,000 it costs to hire out a board… So cheap!
Things to watch out for: Glass, cans and other sharp objects in the sand. So be careful where you land or where you're walking barefooted.
How to get there : You can get there by bus from Valparaíso, also from the Main Street Errazuritz, it's usually a red bus and takes between 30 and 45 minutes to get there.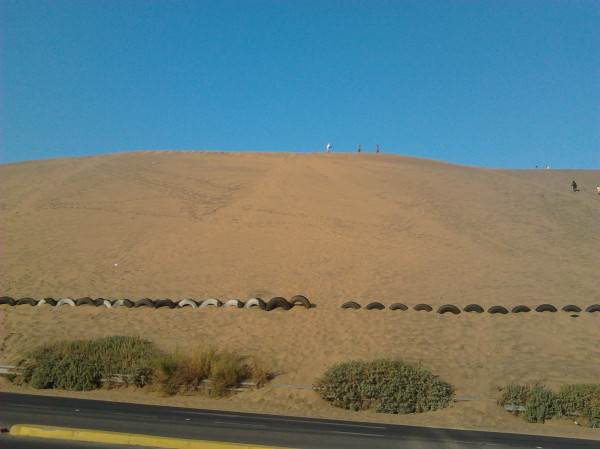 HORCON
Another unique and beautiful town, with several small beaches, great views of the sea and coastline and various 'hippie' stalls where you I can buy cute souvenirs, handmade accessories and clothes.
Horcon is known for its hippie vibes so it is well worth a visit for a few hours. There are plenty of restaurants there where you can eat typical dishes of Chile or if you are seafood lover it's perfect! I recommend you to try 'Ceviche' (a bowl of raw fish with lemon and cilantro) or the flavoursome fish 'Reineta' – a personal favourite. Whilst you are there, why not make a wish on the "Puente de Deseos", the "Wish Bridge".
Things to watch out for: Like most places, you must look out for pick-pockets. Horcon is quite a busy place and then markets can get crowded, so keep a close eye on your belongings.
How to get there: Again, you can catch a bus from then Main Street Errazuritz in Valparaíso, but it usually takes about two hours, so if you want to get there quicker you need to take two buses. So ask the bus driver how long it takes and where to be off to change bus.
REÑACA
The Billabong Reñaca Pro surfing event will take place this weekend. Photo: Chileno via WikiCommons
Reñaca is known for its beautiful beaches as well as the classy lifestyle of the people who live there. With many great restaurants and bars, you will have plenty of options for places to eat and to socialise.
If you're into your water-sports, then this is the place to be. Many people come to Reñaca to enjoy swimming and surfing! The water is extremely cold though (personal opinion) and so I recommend that you go on a hot sunny day, but don't forget sun protection and a hat!
Things to watch out for: there's nothing in particular to watch out for, but you still have to be street smart; stick to main roads at night, keep valuables hidden, and don't walk home alone in then evening.
How to get there: as well, you can get a bus from Valparaíso or Viña. Either a red bus or a green bus. From Valparaíso it will take about 30 minutes and from Viña del Mar it should only take 10 minutes.
VIÑA DEL MAR
Last but not least, is the wild and wonderful town of Viña. Home to top hotels, amazing restaurants, a casino and a lively nightlife you will be impressed with I the potential there. And you really do have the best of both worlds in Viña, with a city-like feel and beautiful beaches, it's a town where bordem does not exist!
From a large shopping mall to a sports beach, this town will suit people of all ages from all walks of life, and with only a half hour bus journey from Valparaíso (when there is a lot of traffic) it would be silly not to take a day trip there.
There you have it. My personal top 5 costal towns to visit when you have some spare time.
I hope you have enjoyed reading this, and I hope maybe it has inspired you to take a trip out of the crazy city to enjoy the beauty of these unique and fun towns.
Things to watch out for: as homeless dogs are common in these areas, you must be aware of the dirt they leave on beaches sometimes. You should also never leave your belongings alone on the beaches as the beaches are often busy during summers periods and so theft is also quite common.
How to get there: Viña del Mar is a popular location and is easy to access from many towns and cities. From Valparaiso its only 15-20 minutes bus journey. You can take most at buses from the Main Street Errazuritz.
Related Posts