Chile's 3,999 miles of coastline may seem daunting when choosing a beach to visit. This article will help narrow down the options by reviewing some of the most note-worthy beaches within two hours of Santiago's city limits.
Whether you are looking for a weekend getaway or a quick day trip, these beaches will not disappoint. Not to mention, most of the summer crowds have disappeared by this time, leaving the beaches empty and quiet. I will start with Algarrobo, and work my way up north to Concón.
Algarrobo
Only an hour bus ride from Santiago, Algarrobo is a small resort town just south of Valparaiso that offers a more rural beach environment.
Located in the south of Algarrobo is the beach El Canelo, which is known for its white sand and the forest of pine trees that surrounds it. It is a popular beach for families and tourists in the summer, but the crowds usually dwindle out by April.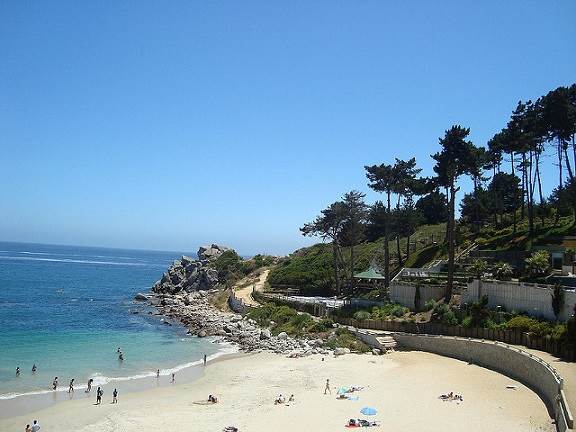 For a more secluded experience, walk a little bit further down the beach to El Canelillo which is smaller and more peaceful.
In the northern coast of Algarrobo you can find the resort San Alfonso del Mar, which is home to the largest swimming pool in the world. It is located along International Beach and extends for 3,323 feet (1,013 meters). For a visual reference, this means it extends farther than 20 Olympic-size swimming pools.
The pool contains 66 million gallons (250 million liters) of sea water that is pumped in and filtered from the Pacific Ocean.
If you make the trek to Algarrobo, it is definitely worth coming to International Beach to see this enormous pool. Although it is restricted to resort guests, it is still possible to walk alongside the pool wall on the beach. International Beach is another popular tourist destination, with big waves and a number of concerts and events.
Viña del Mar
As the fourth-largest city in Chile, Viña del Mar is the obvious choice for beach-goers in Santiago. It is the biggest and most well-known costal town within a two-hour radius of Santiago, and for this reason it is my personal least favorite of the beaches on this list.
The coastline of Viña is bursting with high-rise hotels and resorts, while the rest of the city is very urban and industrial. However, the actual beach in Viña del Mar is not necessarily unpleasant. While the water is cold, the waves are very mild and perfect for children to splash around in.
The beach is lined with kiosks full of homemade crafts and souvenirs, and there are many beachfront restaurants perfect for families. The beach is wide and long, which helps disperse the crowds and lend to a more enjoyable experience. The bus ride to Viña del Mar is just under two hours from Santiago.
Reñaca
Technically included in the city of Viña del Mar, Reñaca is a ten minute bus ride north of the center of Viña and is home to a less-populated and more tranquil beach town.
Reñaca is nestled into an alcove of a large hill which makes the beach feel more secluded. The waves are larger than those in Viña del Mar- fun to splash around in, but still not ideal for surfing. While in the summer months this beach might be overflowing with tourists, it is currently nearly vacant and ideal for a quiet and relaxing vacation.
Concón
Concón can be differentiated from the previous three beaches because of the massive sand dunes that frame its beaches.
Fifty hectares of sand dunes tower above the beaches, although recently they have been disappearing due to the construction of high-rise buildings. Hiking through the sand dunes is a highlight of visiting Concón. There are incredibly steep portions, as well as deep valleys and crevices to explore.
In some areas it truly feels like you have stepped out of Chile and into the Sahara desert, with walls of orange sand extending upward on all sides. Activities such as sand boarding and sand sledging are popular in these dunes.
The town of Concón is located about ten minutes past Reñaca, and it is known for its beach resorts and nightlife. There are three beaches: Playa Negra, Playa Amarilla, and Playa La Boca.
Playa Negra is particularly popular for tourists because of its darkly colored, fine-textured sand from volcanic minerals. Playa La Boca is known for its great surf and hippie-like feel. Playa Amarilla, lastly, is ideal for relaxation or peaceful bathing, with its small waves and beautiful sand.
Related Posts