One of our writers spent months cycling through the South of Chile. He now shares his tips with us to prepare the best trip ever.
1. Prepare to be pushed to the brink of insanity if you start pedaling in December.
December in Patagonia marks the arrival of the region's scourge, the tábano, a big murderous horsefly genetically predisposed to torment cyclists. For the first two weeks of my trip I was permanently surrounded by a buzzing, biting cloud of these nefarious creatures. You will become adept at fending off their assaults, squishing legions of them as they descend on you. You might even perfect the coveted uphill two-handed strike, which normally is followed by a great feeling of unbounded joy.
2. Traveling light is overrated — bring along your luxuries.
I was obsessed with weight while preparing my kit, down to cutting my toothbrush in half and restricting my food selection to cookies and spaghetti. Gradually my puritanism was left behind, and as I trundled south, my meals became ever more elaborate and my panniers swelled under the addition of various luxuries. Definitely do not skimp on a cozy sleeping bag for cause of weight. The promise of a good meal and the security of a good rest served as suitable motivation for each hard day in the saddle.
3. The wind will eventually break you.
South of El Chaltén the mountains rescind and you pass across the bleak Patagonian steppe, a featureless landscape scoured by a ceaseless wind. It can be a blessing if you find yourself with the wind behind you, but it will not remain like that. You cannot hide from it, or attempt to wait it out, all that you can do is endure. After 14 hours cycling into the same ferocious headwind I considered myself well and truly broken.
4. Bridges are a cyclist's best friend.
When Patagonia's weather becomes excessively overbearing, you can always trust in the humble bridge to bring you some respite from the elements. Wind and rain-proof, with an ample water supply it is indeed hot property. There is also sufficient seclusion for you to realize whichever demented habits you have developed during your months alone, whether that be yelling along to the Jackson 5 or having breakfast in the nude.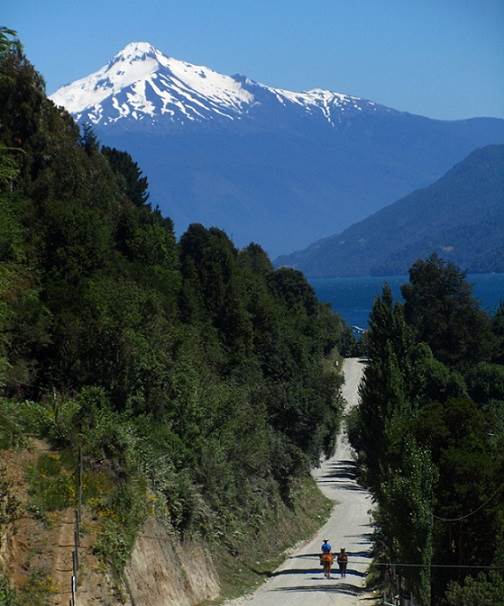 5. Get off the main road.
The true worth of Patagonia is not found on the manicured highways but on the rough, serpentine backroads, seemingly used more by the local wildlife than by the people. I feel sorry for those cyclists who shy away from them, too focused on pumping out the mileage than exploring a place. So put your speedometer away and leave the pavement behind.
6. Cookies are the solution to everything.
Any slight dampening in your mood, any internal quibbles, any moment in which you doubt what you are doing, can normally be solved by one miracle product: the cookie. The Kuki Clásica comes highly recommended.
7. Bring along your hiking boots.
It would be a shame to cycle all the way across Patagonia without taking advantage of some of the prime trekking on offer. So strip off your lycra, retrain your legs to move in a non-cyclical fashion and get out into the backcountry. Some of my personal favorites were Los Dientes on Isla Navarino, the Cerro Huermuel circuit in El Chaltén and Cerro Castillo in Aysén.
8. Do not kid yourself — something will go wrong.
I began the trip convinced that I would saunter into Ushuaia after 3 months of clear-weather cycling, at worst sporting a dodgy tan and my horror stories limited to those of a few punctures. Unfortunately this fantasy was shattered fairly early on by a two week long storm and a series of bike-related disasters. So abandon your fantasies, prepare for the worst.
Related Posts