This beauty of the north is a fertile, narrow oasis. Its surrounding is made of two small, dry hills. Located 3 km. from Arica, this region is producing a great variety of vegetables and fruits, plus the exquisite olive from Azapa, famous because of its violet color and bitter flavor.
One of the most characteristic places is the "handmade" settlement "José Raúl Naranjo Meneses", very similar to Parinacota. Located in Hualles street and very close to Manuel Castillo Ibaceta rotunda, it offers the visitors a wide variety of craftsmanship. These items can be acquired made in stone or wood. You can also get some archeological reproductions, pottery from the North, textiles and sculptures made in metals.
It has a restaurant -El Tambo- that offers typical and international food. It is open every day, from 9:30 AM to 1:30 PM and from 3:30 PM to 8:00 PM.
The rest of the region offers different attractions like the Cerro Chuño that has petroglyphs, and the Quebrada de Acha, with its geoglyphs and its pre-historic camps.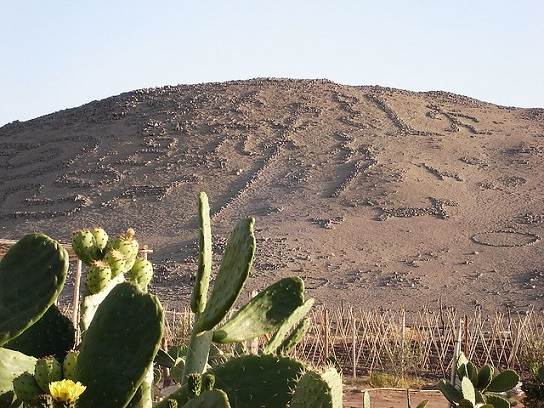 CERRO SOMBRERO
This hill also has geoglyphs and a pre-Hispanic village, with light constructions risen on natural stone terraces.
Some historic studies have determined that this settlement once had around 500 houses approximately 3,000 years ago.
The inhabitants must have been farmers closely related to cattle. The exchange was made by caravans of "llamos" that would bring products from high lands such as meat, dried beef, "quínoa", wool, etc, highly valuable products all of them. These items were exchanged for maize, chilies, fish and shellfish.
ATOCA
The accumulation of rocks represent a typical caravan of "llamos" preceded by two dancing persons. This kind of scenes was used to communicate with other settlements and exchange goods.
CERRO SAGRADO It has astonishing geoglyphs located in the area denominated "Pampa Alto Ramírez". They are at least 200 years old. Many settlements used this place to live, from the beginning of agriculture to our time. The panel of geoglyphs corresponds to human shapes and animals of the area: camels, snakes, crocodiles, etc., all made of stone accumulations.
SAN MIGUEL DE AZAPA
Kind of grave made like big barrows by accumulating sand layers and vegetal fibers. They belong to the period known as "Alto Ramírez".
SAN MIGUEL DE AZAPA
Town located 12 km. from Arica, surrounded by a beautiful agricultural environment that has a nursery with subtropical plants, barrows and a museum -Archeology Museum of San Miguel de Azapa- which depends on the Universidad de Tarapacá. This museum presents a complete vision of the last 10 thousand years of cultural and anthropological development. In this museum you can finally meet the oldest mummies in the world.
LAS PEÑAS DE LIVILCAR SANCTUARY Located 80 km. from Arica, in this place people celebrate every year the "fiesta de la Virgen del Rosario de las Peñas" between the first Sunday in October and December 8th.
Related Posts