People visit Costa Rica for a lot of reasons – the cloud forests, the natural parks, the beautiful beaches, etc. People don't usually come to Costa Rica with the thought of spending much of their time in the capital of San Jose. This is a lovely city that feels comfortable and safe. It's not however very popular with travelers, usually just used as a necessary stopping off point when they fly in or out. It's the central hub of the country and attracts people for that reason but San Jose is more than a transit city.
Great Museums
While San Jose is a relatively young city in terms of Latin America, it is still home to some incredible museums. Most of the city's museums are located downtown, around the Plaza de la Cultura. One of the few impressive, older buildings in the city is the National Theater, south of Plaza de la Cultura, which was built in the 1890s with the growing funds being brought in by the coffee export business. The Museo de Oro Precolombino is actually located underneath the Plaza de la Cultura and is home to some of Costa Rica's best examples of pre-colonial art and artifacts.
Further from the main plaza, the Jade Museum, is worth the trek and is easily one of Costa Rica's best museums. It is home to the largest American jade collection in the world and also has a nice collection of historic artifacts, stonework, and gold pieces. The National Museum, east of the main Plaza de la Cultura is also a great place to stop by if you want to learn more about the country's history and independence from Spain.
Nice Parks
Another great thing about San Jose is the weather. Unlike some other Central America cities, San Jose has nearly perfect weather year round. Thanks to its location up in the mountains and near the equator, the temperature is a pretty constant 70 degrees Fahrenheit year round. This makes San Jose a great city for people who love spending time outdoors and the city is thankfully filled with a number of great parks.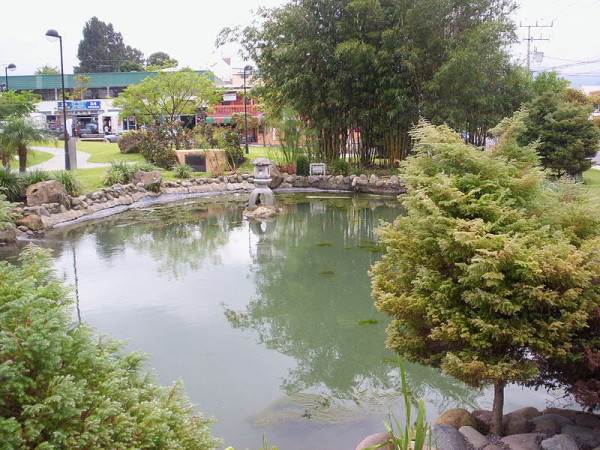 Parque Central is a very social park and often filled with people having an afternoon stroll or chatting after work. Parque Morazán is another popular downtown park which is home to large, old trees, and authentic Japanese garden, and the "Temple of Music" dome at it's center.
Parque Nacional is located in east San Jose and one of the city's largest parks. It is home to a number of statues and monuments documenting important historic figures and events in Costa Rica's history. In the Northwestern corner of the park, you will find the National LIbrary and near by the National Center of Art and Culture.
West of San Jose, the city becomes more and more green and much less dense. La Sabana Metropolitan Park is a huge park on the land that use to be the city's airport. It has lots of wide open fields, jogging paths, and the National Gymnasium with is used for large concerts.
San Jose is usually a stopover for travelers, on their way to see and do all the more popular sights of Costa Rica. If you have time though or are missing home, I would suggest stopping for a bit in San Jose. This city, with its (relatively) safe streets and international vibe, is very friendly and welcoming to both travelers and long term expats.
Couple Travel Tips
San Jose was recently rated as one of Latin America's safest cities. That being said, still watch out for pickpockets and if you plan on renting a car, be very wary as carjackings as all too common.
Staying in San Jose a few day? Great but if it is around high season, December and January, make sure you have a reservation or you might find all the hotels and hostels filled up and you with no place to stay.
If you are looking to settle down and spend a bit more time in a Latin American city, San Jose is a great option for couples. The city is safe, finding a place to rent is relatively easy, and you can rent and drive a car using your US or European drivers license.
Related Posts